25th ICLAM Congress, 22-25 May 2016, Maastricht, the Netherlands
Recently updated: 2015-07-28.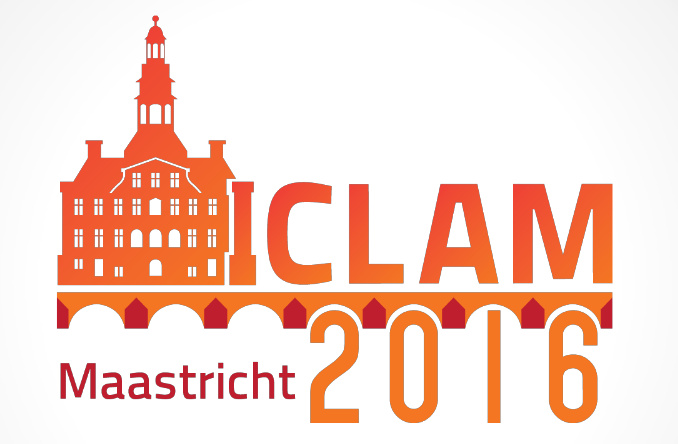 Venue
We strongly welcome the public to register to the next ICLAM conference taking place in Maastricht in May 2016. Detailed information concerning the conference, links to the additional documents and official conference site belonging to the ICLAM website are available below.
Please note that during the conference planned for next year, some time for short reports session is devoted. Therefore, call for oral presentations and posters is open for participants. Feel welcome to work on your own results and their presentations during the ICLAM conference.
Programme overview
Sunday, 22 May 2016:
welcome reception
Monday, 23 May 2016:
scientific programme
Tuesday, 24 May 2016:
scientific programme
half day tour for all participants
gala dinner in Belgium
Wednesday, 25 May 2016:
scientific programme
Fee overview
High income countries:
early bird 580 EUR
regular fee 725 EUR
Low income countries:
early bird 300 EUR
regular fee 375 EUR
Early birds have discount of 20%.
Registration opened June 1, 2015 – click here to register
Scientific programme
The scientific programme will be a truly international exchange of knowledge and ideas. The Scientific Programme Committee has succeeded in attracting 38 renowned top speakers and leading insurance and clinical experts from 19 countries.
Topics include
Big data
Brain injuries
Cardiovascular Risk
Claim related Health
Diabetes mellitus
Evidence based Insurance Medicine
Insurance in the 21th century
Healthy aging
Mental Disorders
Oncology
Pain & psychosomatic
Sports medicine
Infectious disease: future threats
This scientific programme is attractive for Medical Insurance Doctors, Underwriters, Claims Assessors, Actuaries and other insurance professionals.
More information
The official website of the congress: www.iclam2016.org
Join ICLAM on LinkedIn
Follow @ICLAM2016 on Twitter
Download